March 2 2016 – Vancouver, British Columbia – Nevada Energy Metals Inc. "the Company" TSX-V: BFF (OTC Pink: SSMLF) is pleased to announce the forming of an Advisory Board. Chairman and CEO, Harry Barr states, "As our company becomes more active with the aggressive acquisition plans for additional lithium exploration targets in Nevada we are now short listing suitable candidates to better assist in the selection, management and development of our projects. Further announcements will be forthcoming in regards to our Advisory Board."
About Nevada Energy Metals: http://nevadaenergymetals.com
Nevada Energy Metals Inc. is a Canadian Based exploration and development company whose primary listing is on the TSX Venture Exchange. The company's main focuses are brine based lithium exploration targets located in the mining friendly state of Nevada. As of the 13th of January the company has completed a $900,000 CAD secondary funding to carry out an exploration program on the area known as Alkali Lake and Alkali Flats. This lithium target is located in Esmeralda County, Nevada, just 12km from Rockwood Lithium, the only brine based lithium producer in North America. Nevada Energy Metals must complete a one-time payment of shares, cash payments over three years and complete certain exploration milestones to earn its 60% interest. Nevada Energy Metals has acquired, by staking, 100 placer claims covering 2000 acres (809 hectares) at Teels Marsh, Nevada. The property, called Teels Marsh West is a highly prospective Lithium exploration project, 100% owned without any royalties, located on the western part of a large evaporation pond.
On Behalf of the Board of Directors
Harry Barr Chairman & CEO
Neither the TSX Venture Exchange nor its Regulation Services Provider (as that term is defined in the policies of the TSX Venture Exchange) accepts responsibility for the adequacy or accuracy of this release.
Corporate Presentation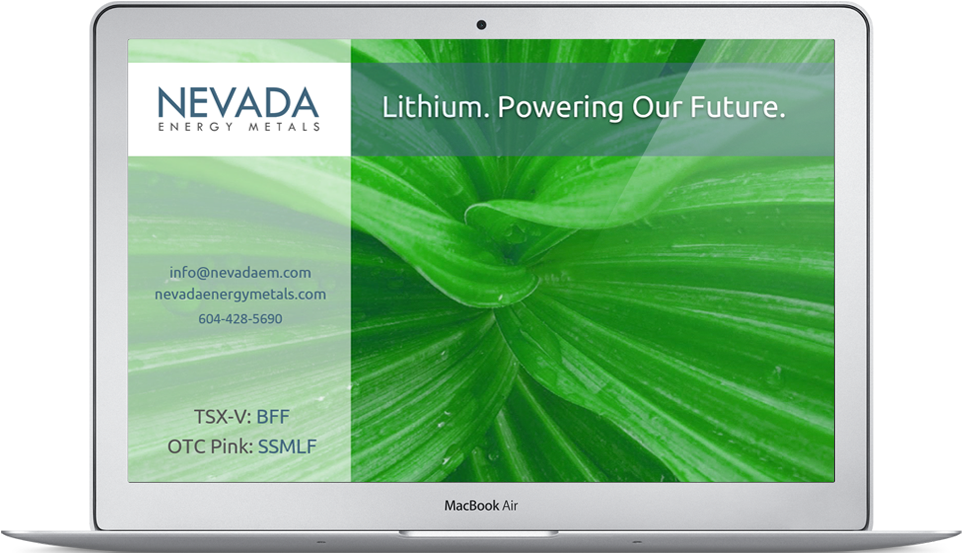 Fact Sheet