Clayton Valley BFF-1 Lithium Project
The Clayton Valley BFF-1 Lithium Project southern boundary lies 250 meters from Albemarle Corporation's Silver Peak lithium mine and brine processing operations. The mine has been in operation since 1967 and remains the only brine based lithium producer in North America. It is also the location of Pure Energy Minerals' 816,000 metric tonnes Lithium Carbonate Equivalent (LCE) Inferred Resource NI 43-101 announced in July 2015. Clayton Valley's centralized location between Nevada and Reno and its highways, access to power, water and labor provide excellent infrastructure for mineral exploration and development. The Clayton Valley BFF-1 Lithium Project is approximately 3.5 hours away from Tesla's Gigafactory, which has a planned annual lithium-ion battery production capacity of 35 gigawatt-hours per year by 2020.
Clayton Valley is one of the few locations globally known to contain commercial-grade lithium-enriched brine. The Valley is an internally drained closed-basin and is surrounded by mountains, hills and ridges on all sides. It contains an underground unconsolidated water bearing system (or aquifer system) which is host to lithium-enriched brines and is contained by the surrounding rock.
The decision to acquire the project was based on descriptions of geological modeling and historical drilling results (Western Geothermal Ltd) in a report authored by J.B. Hulen, PG, (July 31,2008). Mr. Hulen concluded that shallow thermal-gradient drilling and lithium-exploration drilling by previous operators demonstrated that the area underlying this portion of Clayton Valley contained the valley's highest subsurface temperatures.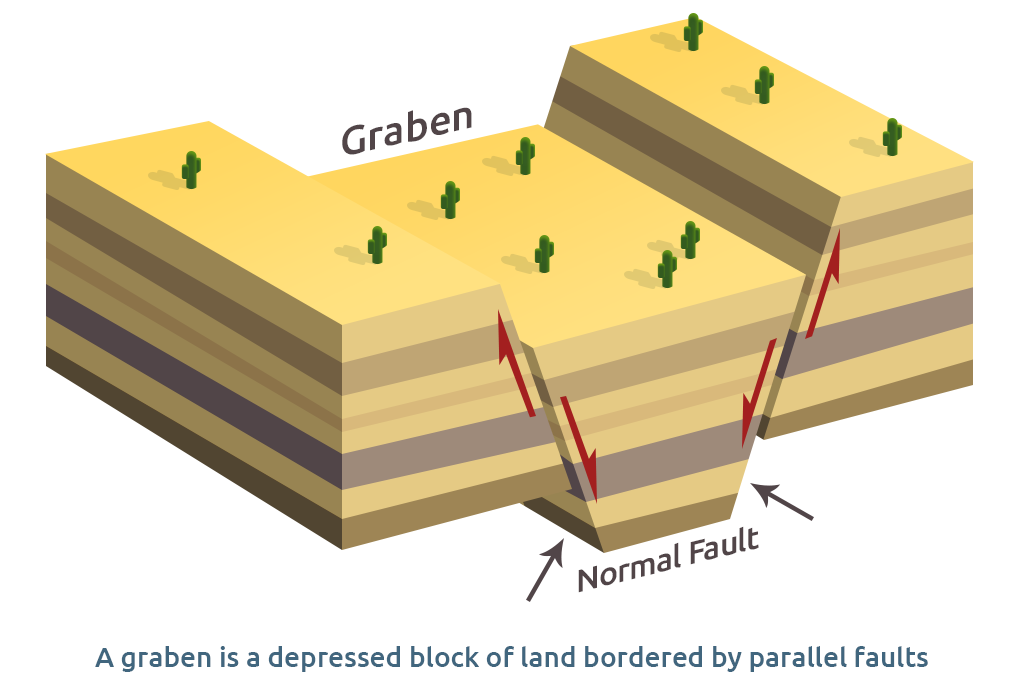 Representation of a Graben (Click to enlarge)
Within the graben (A graben is a depressed block of land bordered by parallel faults) and within the boundary of the claim block , a drill hole by Western Geothermal Partners 2007 logged as WGP#2 reported as follows: "From 280 – to 305 ft., fine grained green sand and silt logged as volcanic ash was encountered. This unit may be correlative to the Main Ash Aquifer, which is a marker bed in other areas of the Clayton Valley Basin."