Clayton Valley BFF-1 Lithium Project
The Clayton Valley BFF-1 Lithium Project southern boundary lies 250 meters from Albemarle Corporation's Silver Peak lithium mine and brine processing operations. The mine has been in operation since 1967 and remains the only brine based lithium producer in North America. It is also the location of Pure Energy Minerals' 816,000 metric tonnes Lithium Carbonate Equivalent (LCE) Inferred Resource NI 43-101 announced in July 2015. Clayton Valley's centralized location between Nevada and Reno and its highways, access to power, water and labor provide excellent infrastructure for mineral exploration and development. The Clayton Valley BFF-1 Lithium Project is approximately 3.5 hours away from Tesla's Gigafactory, which has a planned annual lithium-ion battery production capacity of 35 gigawatt-hours per year by 2020.
Clayton Valley is one of the few locations globally known to contain commercial-grade lithium-enriched brine. The Valley is an internally drained closed-basin and is surrounded by mountains, hills and ridges on all sides. It contains an underground unconsolidated water bearing system (or aquifer system) which is host to lithium-enriched brines and is contained by the surrounding rock.
The decision to acquire the project was based on descriptions of geological modeling and historical drilling results (Western Geothermal Ltd) in a report authored by J.B. Hulen, PG, (July 31,2008). Mr. Hulen concluded that shallow thermal-gradient drilling and lithium-exploration drilling by previous operators demonstrated that the area underlying this portion of Clayton Valley contained the valley's highest subsurface temperatures.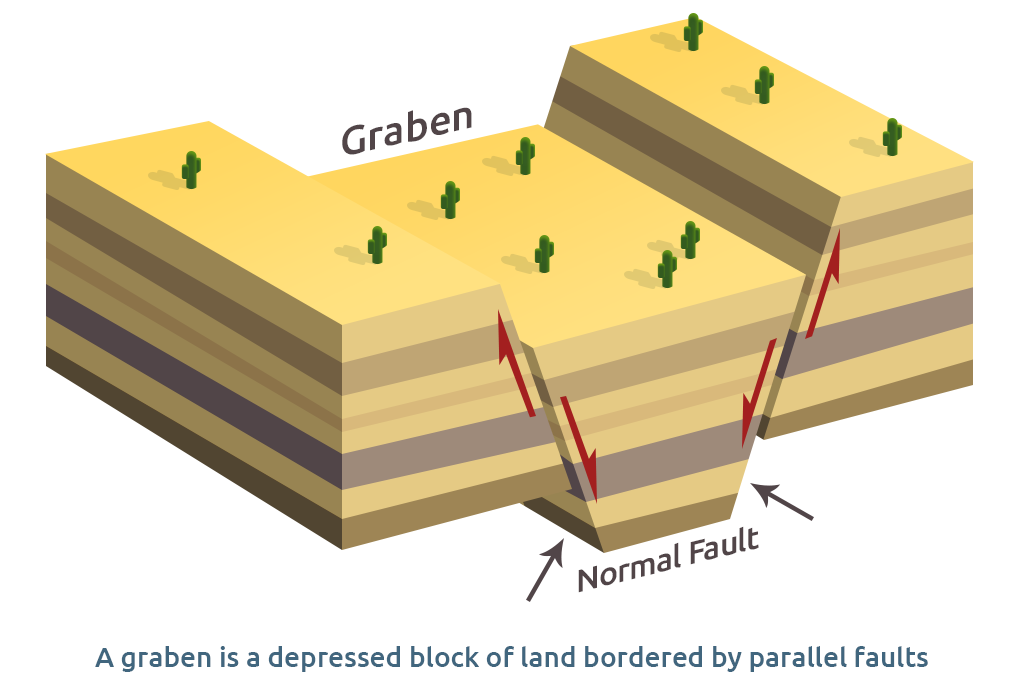 Representation of a Graben (Click to enlarge)
Within the graben (A graben is a depressed block of land bordered by parallel faults) and within the boundary of the claim block , a drill hole by Western Geothermal Partners 2007 logged as WGP#2 reported as follows: "From 280 – to 305 ft., fine grained green sand and silt logged as volcanic ash was encountered. This unit may be correlative to the Main Ash Aquifer, which is a marker bed in other areas of the Clayton Valley Basin."
On May 17th, 2016, Nevada Energy Metals announced that it has agreed to grant American Lithium Corp (TSX-V: LI) an Option to acquire a seventy (70%) percent interest in the BFF-1 Clayton Valley Property by making certain Cash Payments, issuing Shares upon completion of a "Going Public Transaction", and completing Exploration Expenditures on its property at Silver Peak, Clayton Valley, Nevada.
Following exercise of the Option, the Optionee shall have a seventy (70%) interest in and to the Property, with the Optionor retaining the balance. Thereafter, the parties will work diligently and in good faith to negotiate the terms of a joint venture to advance development of the Property. The joint venture will provide that expenditures on the Property will be funded on a pro rata basis, based upon the respective parties proportionate interest in the Property.
On September 20, 2016, American Lithium Corp, the Optionee of the Company's Clayton Valley BFF-1 Project has advised the Company that the BLM has approved a Notice of Intent describing proposed locations for up to 6 sonic drill holes on the property. Sonic drilling is capable of reaching a depth of 500 feet and is used for determining the characteristics and orientation of subsurface playa sediments. The ultimate goal of this program is to confirm the presence of a fine grained green sand and silt logged as volcanic ash in previous drilling on the property. This horizon is thought to be correlative to the Main Ash Aquifer on the adjacent Albermare/Rockwood lithium producing property. (ref. Geology and Conceptual Modeling of the Silver Peak Geothermal Prospect, Esmeralda County, Nevada; Jeffrey B. Hulen, PG, 2008)
Nevada Energy Metals is planning a detailed exploration program on our Clayton Valley BFF-1 Lithium Project for the fall 2016/winter 2017.